Authored by Pepe Escobar via The Saker blog,
The graphic image of Turkey pivoting away from NATO towards the Russia-China strategic partnership was provided, in more ways than one, by Turkish President Tayyip Erdogan visiting Chinese President Xi Jinping in Beijing right after the G20 in Osaka.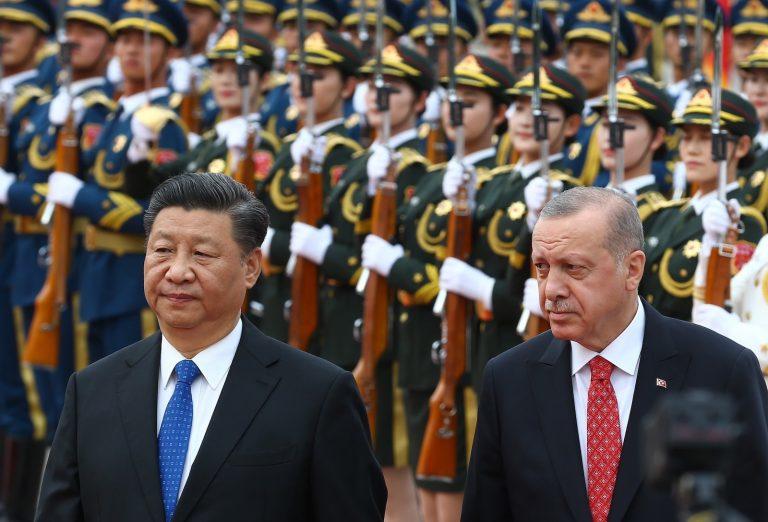 BEIJING, CHINA – JULY 02: President of Turkey, Recep Tayyip Erdogan (R) and Chinese President Xi Jinping (L) walk past the honor guards during an official welcoming ceremony at Great Hall of the People in Beijing, China on July 02, 2019. Volkan Furuncu / Anadolu Agency
Turkey is a key hub in the emerging New Silk Roads, or Belt and Road Initiative. Erdogan is a master at selling Turkey as the ultimate East-West crossroads. He has also expressed much interest in joining the Shanghai Cooperation Organization (SCO), led by Russia-China, whose annual summit took place in Bishkek a few days before Osaka.
In parallel, against hell and high water – from threats of sanctions by the US Congress to NATO warnings – Erdogan never budged from Ankara's decision to buy Russian S-400 defense missile systems, a $2.5-billion contract according to Rostec's Sergei Chemezov.
The S-400s start to be shipped to Turkey as early as this week. According to Turkish Minister of Defense Hulusi Akar, their deployment should start by October. Much to Washington's ire, Turkey is the first NATO member state to buy S-400s.
Xi, as he welcomed Erdogan in Beijing, stressed the message he crafted together with Putin in their previous meetings in St Petersburg, Bishkek and Osaka: China and Turkey should "uphold a multilateral world order with the United Nations at its core, a system based on international law."…https://www.zerohedge.com/news/2019-07-15/sultan-shines-court-dragon-king