Chatom Ford, a car dealership in Chatom, Alabama, has gone viral on Facebook for offering customers "a Bible, 12 gauge, and flag" with any purchase between now and July 31.
The dealership published a Facebook video last Wednseday that had Koby Palmer, a general sales manager, talking about the promotion in a 30-second video. As of Wednesday morning, the video has more than 19k views.
"I guess it went viral, as the kids say," Palmer, 29, told USA TODAY.
He added, "We live in a small town of 1,200 people. It's a very small, rural area. They lean on their religious beliefs, their pride in America and they love to hunt."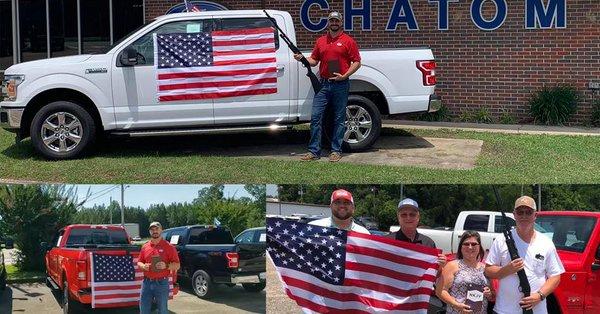 When a customer purchases a vehicle from Chatom, they will get the Bible and the flag. However, the dealership isn't directly handing out shotgun; they provide customers over the age of 18 a certificate that can be taken to a certified local firearms dealer that is redeemable for the 12 guage.
Palmer said the dealership had sold five cars since the promotion launched last Friday.
"It's been running for three business days, and we sold five cars. In a small town, business is booming," Palmer said