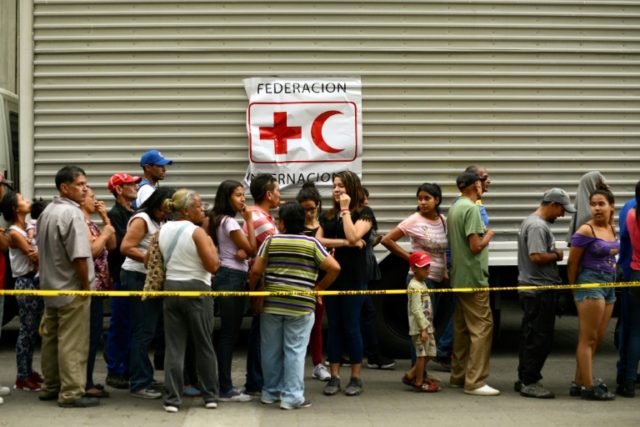 Venezuelans protested at the Red Cross headquarters in Caracas on Monday accusing the government of selling some of the organization's recently arrived humanitarian aid.
The Red Cross made its first delivery of emergency aid to the country last week after the Maduro regime finally caved in to international pressure and accepted aid. The regime had previously denied the existence of any humanitarian crisis and rejected offers of food and medicine. There are already signs the socialist regime has meddled with the aid's distribution, leading many to believe they have sold it for a profit.
"The children's hospital was one of the hospitals visited by the Red Cross to assess the needs of each institution and it wasn't put on the list to allow the entry of humanitarian aid," Margoth Monasterios, President of the Doctors Union, told reporters at the protest. "What happened is they met with the Ministry of Health, who determined which hospitals and centers the aid would go to."
The second round of humanitarian aid is expected to arrive on May 8, which includes surgical equipment they hope will be able to benefit around 650,000 Venezuelans.
"This humanitarian aid that is arriving at institutions specifically for use in operations," contended Monasterios. "The medicines have not yet arrived, despite the fact that on the 8th May a ship is arriving with new equipment." Read more: https://www.breitbart.com/latin-america/2019/04/23/venezuelans-accuse-socialist-regime-selling-red-cross-humanitarian-aid/