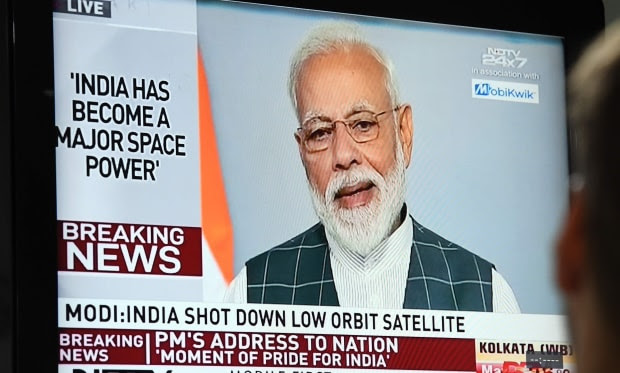 Source: Rajesh Roy and Eric Bellman
With the test, which destroyed an Indian satellite orbiting around 186 miles up, India joined the U.S., Russia and China as the only nations with such capability
NEW DELHI—India said it successfully tested a satellite-destroying missile, signaling its growing military ambitions by joining the small group of countries with weapons to carry war into space.
With the Wednesday morning test—which destroyed an Indian satellite orbiting around 186 miles up—the South Asian nation became the fourth to prove capable of targeting the thousands of satellites circling the Earth, crucial links for communication, military and intelligence networks. The others are the U.S., Russia and China.
Indian Prime Minister Narendra Modi announced the development in an afternoon address to the nation and social-media blitz.
"India stands tall as a space power," he said. "It will make India stronger, even more secure and will further peace and harmony."
The test will likely trigger further discussions about the weaponization of space, an issue that has flared up since President Trump called for the U.S. to add a "space force" to its military to defend and target the crucial systems in space.
America started developing space weapons systems in the 1950s, and by the 1980s space was expected to be the next frontier for its arms race with the former Soviet Union. President Ronald Reagan pushed for development of a space-based missile shield—dubbed "Star Wars" by doubters—but the issue of conflict in space faded after the end of the Cold War.
China tested an antisatellite system in 2007, sparking concerns about its growing military presence and spending. India's test was seen as a show of strength, particularly for rival Pakistan.
"Potential adversaries will have to take note, and this certainly indicates India's ambitions and capabilities in both space generally and military space particularly," said Mark Hilborne, a lecturer in security studies at King's College London. "Thus the nations who will be paying most close attention would be China and Pakistan."
In February, Indian warplanes bombed targets inside Pakistan in retaliation for a suicide attack that killed 40 Indian paramilitary police and which Pakistani militant group claimed responsibility. There was fear that the two countries, which have fought three wars in the past 72 years, were at the brink of a fourth, but tensions eased after Pakistan released a captured Indian pilot.
While some may see this as a win in an arms race with Pakistan, it is geopolitics at a higher level, meant to underscore India's rising global profile, said Kartik Bommakanti, an associate fellow with the Strategic Studies Program at Observer Research Foundation, a New Delhi-based think tank
"I don't believe it really has any implications for Pakistan per se. Our test is more directed at the Chinese, and Pakistanis don't have much of a space program," he said. "What matters is how the Chinese react, how the Americans react, how the Russians react."
Indians' initial reaction to the missile test, as reflected on local television and in social media, was a mixture of pride and suspicion. National elections are scheduled to start around mid-April, and critics of Mr. Modi saw the test as a show of strength meant to bolster his chance at re-election.
Akhilesh Yadav, the leader of an opposition party and former chief minister of the state of Uttar Pradesh, said Mr. Modi is trying to distract voters from the problems in the economy.
"Today @narendramodi got himself an hour of free TV & divert nation's attention away from issues on ground—#Unemployment #RuralCrisis & #WomensSecurity—by pointing at the sky," he tweeted.
In the test, called Mission Shakti (Hindi for power), the ballistic missile was launched from an island off India's east coast and took around three minutes to reach its target. It was carried out in accordance with all international laws and treaties, Prime Minister Modi declared, and wouldn't threaten peace in the region.
"For maintaining peace in the region, it's essential that India be strong," he said. "We have been against any arms race in the space and we still maintain that policy."
—Krishna Pokharel contributed to this article.
Write to Rajesh Roy at rajesh.roy@wsj.com and Eric Bellman at eric.bellman@wsj.com
Correction
Akhilesh Yadav is former chief minister of the state of Uttar Pradesh. An earlier version of this article incorrectly stated that he is the current chief minister. (March 27)