Authored by Mac Slavo via SHTFplan.com,
A new alarming parallel between today's eviction crisis and the sub-prime mortgage crisis which helped spur the Great Recession has surfaced. The economy is sending warning signs to those who choose to take heed.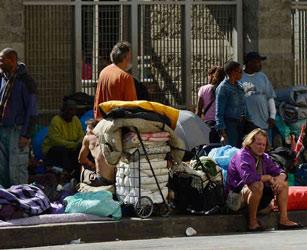 The eviction crisis is worsening to the point that Georgia State University authors feel that protections should be put in place to safeguard renters, such as longer eviction notices and legal protection, according to Market Watch. However, that could make the crisis much worse by homeowners simply refusing to rent their properties out at all. More government intervention (whether it's designed to protect people or not) will only make a very bad situation worse.
Evictions have become a real visible effect of the volatility in today's economy. Stable housing is increasingly out of reach for many Americans, as both rentals and homes to own grow more expensive, options dwindle, and wages remain stagnant. But some scholars at Georgia State University, in conjunction with a ProPublica journalist, completed a new study which shows that not all evictions are created equal.
The researchers who conducted the study examined "serial" eviction filings (those done repeatedly by a landlord against a tenant). By comparing serial evictions to ordinary ones, the researchers found patterns of landlord "behavior and intentions", some of which are reminiscent of the worst of the housing crisis a decade ago.
As of right now, nearly half of Americans are "rent-burdened," (0ften known as "house poor") which means that they spend more than 30% of their income on rent, according to Market Watch's statistics. Homelessness is also on the rise and has been for quite some time. When it comes to children who have experienced eviction in the last decade in the United States, the numbers could be as high as one in seven. Read more: https://www.zerohedge.com/news/2019-03-28/accelerating-eviction-crisis-parallels-sub-prime-mortgage-crisis-great-recession