Carol Rosin, who worked with Wernher von Braun says he told her false flags would progress from Communists, to terrorists, to asteroids, to aliens. He told her "Carol, the last card is the alien card. We are going to have to build space-based weapons against aliens and all of it is a lie."
All of this is a LIE!!!!
Is China Building Space Weapons To Attack US Satellites?
https://www.zerohedge.com/news/2019-02-12/china-building-space-weapons-attack-us-satellites
Here's something that could really put a damper on US-China trade talks.
Two weeks after DNI Dan Coats warned about US adversaries expanding "their use of space-based reconnaissance, communications and navigations systems," Bloomberg reported that China's recent development of "sophisticated" capabilities for "satellite inspection and repair" and "space debris cleanup" might actually be a ruse for something far more nefarious.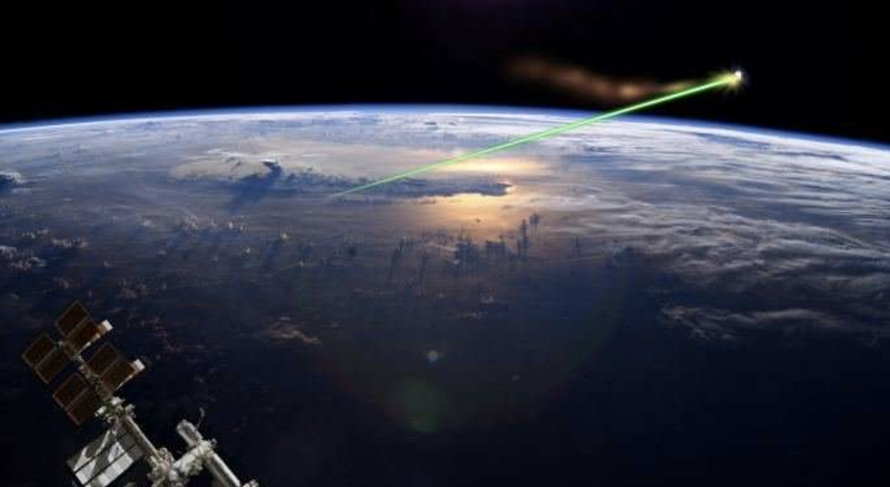 At least some of these capabilities "could also function" as weapons against US satellites, the Defense Intelligence Agency has said. Because the technology used to clean up space debris could easily serve a "dual purpose."
The increase in what's essentially orbiting garbage that could damage or destroy a satellite "has implications for policymakers worldwide and is encouraging the development of space debris removal technology," the agency said Monday in an unclassified publication on threats to U.S. satellites.

But "this technology is dual-use because it could be used to damage another satellite," it said.
China's Foreign Ministry said on Tuesday that the allegations were "groundless," though it acknowledged that, since the US has itself acknowledged the importance of developing space weapons, this could lead to their becoming a "reality."
"Recently the U.S. has defined outer space as a battlefield and announced the establishment of an outer space force," spokeswoman Hua Chunying told a briefing in Beijing. "So this may lead to the reality of the weaponization and endangerment of outer space."
To be sure, as it multiplies, the issue of space debris is becoming an increasingly serious problem.
Of about 21,000 large objects in space that are least 10 centimeters (4 inches) in size that are tracked and cataloged in Earth's orbit, only about 1,800 are active satellites, according to the defense agency. The rest is debris, including parts of spacecraft.

More than a third of all recorded debris is from two events: China's use of a missile in 2007 to destroy a defunct satellite and the accidental collision between a U.S. communications satellite and a defunct Russian one in 2009.

From 1998 through 2017, the International Space Station, which is in low Earth orbit, maneuvered at least 25 times to avoid potential orbital collisions, the intelligence agency said.
Of course, China and the US aren't alone in purportedly developing space weapons. Russia has been pursuing them, too. Luckily, the Pentagon budget has set aside money to start building that first "Space Force" base.
It certainly might make one wonder: How far away are we from "Death Star" levels of destruction?
by Gregg Prescott, M.S.
Founder, Webmaster, & Editor, In5D.com – https://in5d.com/are-the-ruling-elite-about-to-play-the-last-card/
In 1974, Dr. Carol Rosin was warned by Dr. Wernher von Braun about a series of events that will happen in the near future, all of which will be based on lies. The 'Last Card' that remains is an extraterrestrial invasion.
Dr. Rosin warned us about the weaponization of space through her professional relationship with ex-Nazi scientists, Dr. Wernher von Braun. While on his death bead, von Braun confided to Rosin about the following external threats that would be created as a false flag by the United States government:
"They're inventing enemies he (von Braun) said, against whom they are going to build this space-based weapon system—the first of whom was the Russians which was existing at that time.  Then there would be terrorists, then there would be third world countries, now we call them rogue nations or nations of concern.  Then there would be asteroids.  And then he would repeat to me over and over 'and the last card, the last, the last card would be the extraterrestrial threat'…you will find that there is going to be a spin to find some enemy against whom we have to build space based weapons and now we should expect the spin."
~Dr. Carol Rosin
Through Dr. Rosin, von Braun specifically warned her about some sinister plans by the global elites that were already in place and waiting to be executed.
In order, von Braun warned of the following:
Russia and the Cold War
Terrorists
3rd World Countries / Rogue Nations / Nations of Concern
Asteroids
Extraterrestrial Threat
Space-Based Weapon System
On March 23, 1983, President Ronald Reagan's announced a program called the Strategic Defense Initiative which is based on "Star Wars" technology.
The New York Times reported: "In effect, Mr. Reagan proposed to make obsolete the current United States policy of relying on massive retaliation by its ballistic missiles to counter the threat of a Soviet nuclear attack."
The technology proposed by President Reagan was "decades away from reality," according to The Times. "White House officials said the new program might involve lasers, microwave devices, particle beams and projectile beams. These devices, most of which are in a very early stage of development, in theory could be directed from satellites, airplanes or land-based installations to shoot down missiles in the air."
Terrorist Threat
The next stage in this plan was to create a terrorist threat which came to fruition through the events of September 11, 2001. Never in this history of steel reinforced building has any ever collapsed due to a fire. On this day, 3 buildings at the World Trade Center in New York City collapsed at near free fall speed. Building 7 was the last to collapse and was not even hit by an airplane. The BBC announced that Building 7 collapsed 20 minutes before the demolition.
In Washington DC, what appeared to be a missile crashed into the Pentagon. There were no signs of the titanium engines which could not have disintegrated or melted due to fire. Shortly after this "attack" by the "terrorists" the government dumped top soil over the crime scene. One should ask, "Why in the world would they cover up potential evidence?" (unless they have something to hide…)
In Shanksville, PA, there was, once again, virtually no evidence of a plane crash. Photos reveal what looks to be a missile explosion at the site of this alleged plane crash.
As we have learned, a war with terrorists can never be won, so this plays into the hands of supporting the Military Industrial Complex to which President Dwight D. Eisenhower warned us about on his exit speech on January 17, 1961:
3rd World Countries / Rogue Nations / Nations of Concern
One country that many consider to be an unstable rogue nation is North Korea, who has recently been testing nuclear weapons.
A 5.1 magnitude earthquake was hypothesized to be the result of one of these tests.
Additionally, in the 3rd world Republic of Mali, French and British troops have been assembled to fight "insurgents" while the United States has vowed $50 million in support as well as potential troops as this war escalates.
The real reason why troops are there, which is one of the main reasons for many wars, is for their main resource of gold, but no world leader will readily admit it.
Meanwhile, Germany made a request to repatriate their 300 tonnes of gold from the New York Federal Reserve, who told Germany that it would take seven years to complete that transaction.
Mali's main resource is gold and at their current rate of excavation, it would take approximately 7 years to mine 300 tonnes of gold, which assumedly, the Federal Reserve does not have in its current possession.
Is this all starting to make sense?
Asteroids
While it may not be the size of an asteroid, a rather large meteor crashed into Russia in recent news, prompting some people to question how to defend against possible other meteors or asteroids in the future.
In recent news, CNN began their neural linguistic programming of the sheeple by asking, "Could We Stop An Asteroid?"
CNN also released an article entitled, "While you were working: An asteroid just flew by" further planting the seeds of fear, propaganda and a possible false flag event.
Extraterrestrial Threat
"The last card" according to von Braun's testimonial to Dr. Rosin is the extraterrestrial threat. Whistleblowers and insiders have stated numerous times that many of the UFO sightings are potentially "our own" crafts as this technology has been around for many years through reverse engineering.
What is the purpose of these lies?
Ultimately, to create a one world government, currency and religion.
It is no coincidence that many banks are closing, nor is it coincidental that the Pope made his resignation speech on February 11, 2013. As revolutions continue in many countries, the stage is being set for a staged extraterrestrial attack which will encourage the sleeping masses to run to their respective governments for help and protection.
Some things they didn't plan on…
Our consciousness plays a large role in how these final events will unfold. Simply talking about their plans may be enough for the globalists to reconsider their next move(s) or may even possibly prevent any further moves in the near future.
Additionally, as evidenced by Steven Greer's Disclosure Project, numerous retired military officials have stated on record that extraterrestrial intervention has occurred numerous times in which the ET's would disable nuclear warheads on airplanes and in missile silos.
It is within the realm of possibility that our galactic neighbors may step in to prevent any type of world tyranny plans but one should not rely on this event to take place.
As of this date, everything that von Braun has warned us about has come true, thus giving credence and validity to his statements. As evidenced by numerous paintings dating back tens of thousands of years, we have been visited by extraterrestrials for a very long time, so chances are, any extraterrestrial visitation would be benevolent and not malevolent, contrary to what the globalists will be trying to sell us as their plans unfold.
The more we can share this type of information with others, the less likely these plans will come to fruition.
Gregg