UN Global Compact for Safe, Orderly and Regular Migration sets out 23 objectives for international cooperation
Canada joined more than 160 United Nations member states in adopting a new negotiated agreement on international migration Monday. 
The non-binding United Nations Global Compact for Safe, Orderly and Regular Migration sets out 23 objectives for improving international cooperation on all forms of migration, from refugees to skilled workers.
While underscoring the need to address the "adverse drivers and structural factors" that lead migrants to leave their country of origin, the objectives call for enhancing the "availability and flexibility of pathways for regular migration," investing in skills development and facilitating the "mutual recognition of skills, qualifications and competences," among other goals.
The document states that its purpose is to optimize the "positive impacts" of migration, which it calls "a source of prosperity, innovation and sustainable development in our globalized world."
The Government of Canada said the pact is the "first multilateral framework for the global response to migration" and comes at a time when roughly 258 million people are on the move worldwide — a 49 per cent increase over 2000.
Of this number, 68.5 million forcibly displaced persons fleeing war, violence and discrimination.
In an interview with the Canadian Broadcasting Corporation (CBC), Canada's Minister of Immigration, Refugees and Citizenship, Ahmed Hussen, said the compact provides a useful guidelines for the international community on migration issues.
Hussen told CBC the agreement helps countries "foster inclusive and cohesive societies by empowering migrants" to play more proactive and positive roles in their host communities.
He also stressed that the agreement is non-binding, which means it serves more as a set of best practices for the international community.
The Government of Canada has set immigration levels targets that would see the arrival more than 1.3 million new permanent residents between 2018 and 2021. In 2019 alone, Canada has a target of 330,800 new admissions through its various economic, family and refugee immigration programs.
To find out if you are eligible for any Canadian immigration programs, fill out a free assessment form.
The compact's adoption on December 10 — International Human Rights Day — took place against a backdrop of mounting backlash against immigration in many European countries and the United States, among others.
The U.S. government opposed the pact, warning it could compromise national sovereignty when it comes to immigration.
The agreement, however, affirms "the sovereign right of States to determine their national migration policy and their prerogative to govern migration within their jurisdiction, in conformity with international law."
"If this compact contributes to more orderly migration and a more humane approach to migration, I think that's a very positive thing," said David Cohen, senior partner with the Campbell Cohen Canadian immigration law firm in Montreal. "Immigration is a net benefit for Canada, and the integrity of our immigration system is crucial."
Objectives for Safe, Orderly and Regular Migration:

Collect and utilize accurate and disaggregated data as a basis for evidence-based policies.
Minimize the adverse drivers and structural factors that compel people to leave their country of origin.
Provide accurate and timely information at all stages of migration.
Ensure that all migrants have proof of legal identity and adequate documentation.
Enhance availability and flexibility of pathways for regular migration.
Facilitate fair and ethical recruitment and safeguard conditions that ensure decent work.
Address and reduce vulnerabilities in migration.
Save lives and establish coordinated international efforts on missing migrants.
Strengthen the transnational response to smuggling of migrants.
Prevent, combat and eradicate trafficking in persons in the context of international migration.
Manage borders in an integrated, secure and coordinated manner.
Strengthen certainty and predictability in migration procedures for appropriate screening, assessment and referral.
Use migration detention only as a measure of last resort and work towards alternatives.
Enhance consular protection, assistance and cooperation throughout the migration cycle.
Provide access to basic services for migrants.
Empower migrants and societies to realize full inclusion and social cohesion.
Eliminate all forms of discrimination and promote evidence-based public discourse to shape perceptions of migration.
Invest in skills development and facilitate mutual recognition of skills, qualifications and competences.
Create conditions for migrants and diasporas to fully contribute to sustainable development in all countries.
Promote faster, safer and cheaper transfer of remittances and foster financial inclusion of migrants.
Cooperate in facilitating safe and dignified return and readmission, as well as sustainable reintegration.
Establish mechanisms for the portability of social security entitlements and earned benefits.
Strengthen international cooperation and global partnerships for safe, orderly and regular migration.
https://www.cicnews.com/2018/12/canada-more-than-160-countries-adopt-un-migration-pact-1211591.html#gs.BB71oPg
Governments urged to put first ever UN global migration pact in motion, post-Marrakech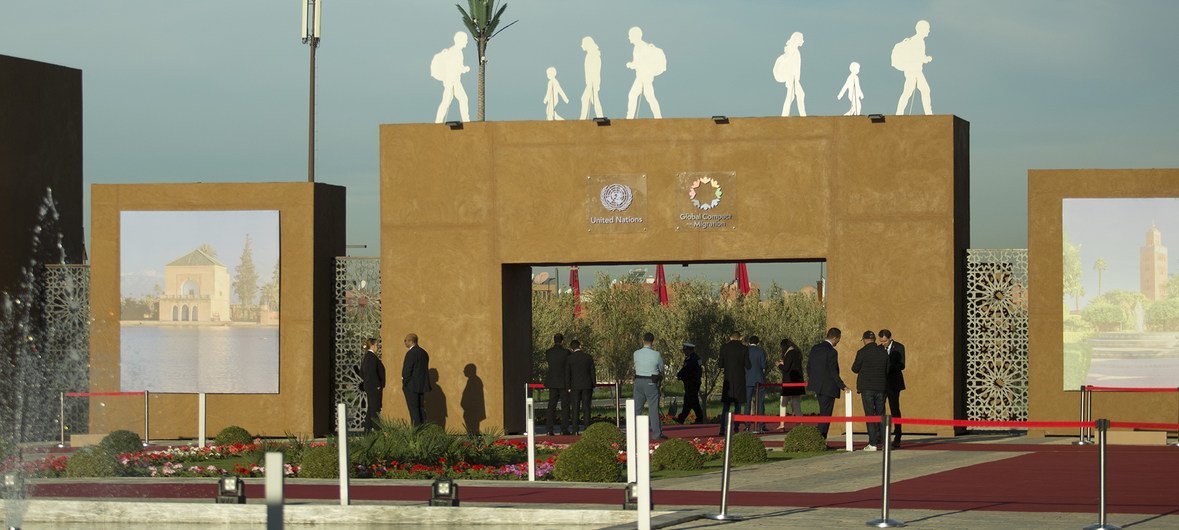 The adoption by more than 160 governments of the first-ever global migration pact is a triumph of multilateralism and highlights the importance of dispelling "myths" and fear-mongering over the issue, said the UN's senior migration official on Tuesday, bringing the key two-day Marrakech conference to a close.
The Member States who took part in the intergovernmental conference in Morocco "committed to a global migration framework based on facts not myths," said Louise Arbour, UN Special Representative for International Migration, speaking at a closing press conference, adding that the framework would protect their national interests and enable better cooperation.
She said the Global Compact for Safe, Orderly and Regular Migration "is designed to enhance safety and order in migration management, and reduce recourse to dangerous, chaotic migratory routes", revealing that "it seeks to maximize all the benefits of human mobility and mitigate its challenges."
A central promise of the non-binding pact is that it "reinforces, unambiguously, the fundamental principle that migrants everywhere should be treated with dignity and fairness," added Ms. Arbour.
She called on the governments who did not join to reconsider their position. She told them, "I urge you to read it carefully and of course form your own opinion. In doing so, listen to the Secretary-General's dispelling of the myths about the Compact."
A former top Canadian judge, who also served as the UN High Commissioner for Human Rights, Ms. Arbour, told sceptical nations who had decided not to be in Marrakech that "under international human rights law citizens of a country have the right to enter, stay and leave their country but they don't have a right to go anywhere else unless they seek asylum, or are authorized by another country to enter its territory."
Ms. Arbour reiterated Secretary-General António Guterres's call to banish the myths surrounding migration, and the international accord, saying that "it is not correct to suggest it imposes obligations on Member States and infringes on their sovereignty. It does nothing of the sort, and it is not binding, as a treaty would be."
'Full of energy and conviction' for next phase: Arbour
The Compact also does not create any new right to migrate, she added. She reminded developed economies that migration is a net gain, and a boost to the work force. On the other hand, when countries host refugees and those forced to flee, "they should be assisted and celebrated, as they make the world a better place for all of us."
Ms. Arbour thanked the Kingdom of Morocco for hosting the conference and enabling "this historic moment for migration and multilateralism" to unfold in Marrakesh. "We leave Marrakesh full of energy and conviction. With the Global Compact, we have an opportunity to embark on a new phase of cooperation on migration," she said.
More than 2,000 delegates made the trip to the Moroccan desert and the specially erected conference facility, including government officials, representatives of business, labour unions, civil society, mayors and many others who have a vital role to play in ensuring that migration is managed in a manner that benefits all.
Implementation must come next
The Moroccan Minister of Foreign Affairs, Mr. Nasser Bourita, stressed the importance his country attaches to multilateralism in addressing migration and other pressing international issues.
He told reports that Member States had demonstrated in Marrakesh, that "migration unites more than it divides". He said adoption of the pact represents only the first step, which must be followed now by implementation, urging everyone to maintain momentum. Mr. Nasser hailed the Secretary-General's initiative to launch the UN Network on Migration, describing it as the cornerstone to the Compact.
Former Liberian president Ellen Johnson Sirleaf told UN News in an interview, how the adoption of the pact would be of benefit to Africa. She said it should help stop some of the ill-treatment faced by Africans on the move, "the small numbers that have tried to cross borders illegally", she said, and maintain the fight against poverty to try and stop young people from leaving home in the first place.
Ms. Sirleaf, who chaired the High-Level panel on International Migration in Africa, admitted that the Compact will also enable African countries to find ways to ensure that "the people who cross the borders are given humane treatment, the dignity they deserve."https://news.un.org/en/story/2018/12/1028251