Edom's Destruction cometh!!!!
A Syrian-Hizballah buildup for a leap on Jordan's border, cause for US, Israeli concern
A large Syrian army/Hizballah force is massing at Izra in the southern Daraa region poised to fight through to the Jordanian border and come within reach of Quneitra.  This is reported by DEBKAfile's military sources. The big Izra base also houses the Iranian command for eastern Syria. Bashar Assad has freed up substantial military strength for his drive to capture the south after beating back rebel forces from the Damascus area and proclaiming it under his control. The strength piling up at Izra consists of elements of the 4th Armored Division, as well as the 5th, 7th and 9th Divisions, paired with Hizballah reinforcements. They are armed with fresh Russian arms deliveries of Golan 1000 missile launchers and the new version of the Kornet D anti-tank missiles which can hit targets within a range of 8-9 km.
Our sources report that these units are preparing to drive south, knock over the rebel militias holding positions in the southeast and break through to the Syrian-Jordanian border crossing at Nasib. This is not the Syrian army's first expedition with this goal, but hitherto they were pushed back by the rebels when the Russian command denied them air support at US and Jordanian insistence. This time, Russian intentions are unknown.
The US and Israeli commanders are watching the buildup at Izra with concern. Should a Syrian government force manage to fight its way through to the Jordanian border, backed by Hizballah and Iranian commanders, it would pose a threat to the US contingents posted in northern Jordan and embedded in the Syrian-Jordanian-Iraqi border triangle. Their presence there would be just a hop and a jump away from the Syrian Golan town of Quneitra and the Israeli border to the east, which is causing anxiety in Israel.
https://www.debka.com/a-syrian-hizballah-buildup-for-a-leap-on-jordans-border-cause-for-us-israeli-concern/
Sweden Warns Every Single Household To Prep For War
Authored by Daisy Luther via The Organic Prepper blog,
The government of Sweden has produced a 20-page pamphlet which they'll be sending to each of the 4.8 million households in the country urging them to get prepared for…WAR.
Although they haven't been at war for over 200 years, for some reason, right now, they want their citizens to get prepped – and fast. This goes along with an article I wrote in January of 2018 when the government urged their people to be ready to cope "without help" for at least a week.
Shortly before Christmas, the Swedish government quietly published a paper called "Resilience." Initially, the requirement had been for people to be prepared for 3 days without help, but it seems like that was a baby step. The government itself wants to be prepared for a 3-month long civil emergency and they're urging citizens to take responsibility, too.

It really makes you wonder what is looming ahead, doesn't it? (source)
This, however, is a direct approach, with the preparedness instructions delivered to their doors.
Here's what the government of Sweden is recommending.
The booklet, titled, If Crisis or War Comes, is an updated version of one distributed in the 1980s. It was compiled by the Swedish Civil Contingencies Agency (MSB) and references several potential crises that could occur, according to the Swedish media:
disruptions to IT systems
incidents occurring in the rest of the world
climate change
 increased tension in the Baltic region
The brochure warns Swedes of things that every prepper knows. "In the event of a societal emergency, help will be provided first to those who need it most. The majority must be prepared to cope on their own for some time." Here's what Swedish website The Local has to say about the warnings.
"Water, food and warmth" as well as an ability to obtain information from authorities are the most important things in such a scenario.

The guide provides a checklist of foodstuffs and goods it's useful to have at home just in case, ranging from basic vegetables to long-lasting oat or soy milk, tinned protein like sardines or boiled meat, and items for providing warmth, access to communications, and for storing water.

The booklet also has a checklist to help Swedes be better prepared to cope with misleading information and influence operations, noting that "the best protection against false information and hostile propaganda is to critically appraise the source" by asking questions like "is this factual information or opinion?" and "who has put this out?".

"We all have a responsibility for our country's safety and preparedness, so it's important for everyone to also have knowledge on how we can contribute if something serious occurs," MSB General Director Dan Eliasson said in a statement.

"Sweden is safer than many other countries but threats exist." (source)
Supply checklists are included, with suggestions for stocking up on things like mineral water, wet wipes, and tinned hummus. There are directions to bomb shelters, as well as instructions for what to do if ATMs, cellphones or the internet stop working.
https://www.zerohedge.com/news/2018-05-22/sweden-warns-every-single-household-prep-war
India Wants AI Weapon Systems Before The Next War
Taking a tip from global superpowers like U.S., Britain, France, China, and Russia, who are actively modernizing their militaries with artificial intelligence (AI) and machine learning technologies to develop the next-generation of autonomous weapon systems for the modern battlefield.
The Narendra Modi led-government of India has begun to incorporate AI into its armed forces to improve its operational readiness. So far, the government has formed an AI task force and unleashed a variety of unmanned tanks, flying vehicles, and robotic weapon systems before the next military conflict.
India has developed the Muntra, India's first unmanned tank for the Army. (Source: The Times of India) 
Defense Research and Development Organisation's (DRDO) robot and weapon detectors. (Source: DRDO)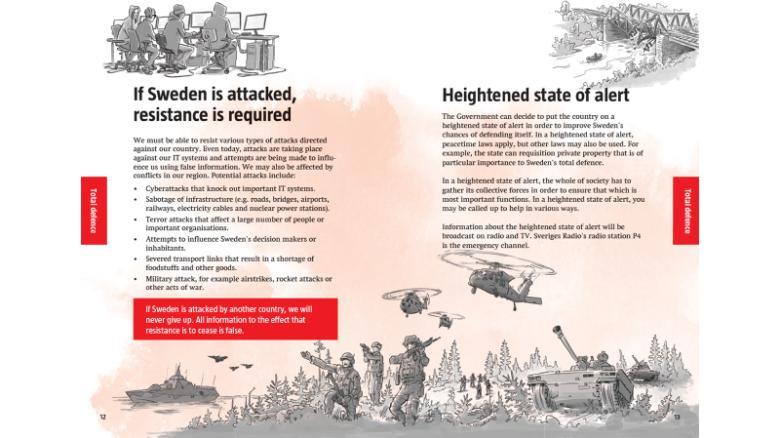 Indian Airforce's HAROP TP Drone. (Source: Security Watch India) 
According to The Times of India, the modernization effort by the Modi led-government is part of a broader political action to prepare the Army, Navy, and the Air Force for the next generation of wars between China and or Pakistan.
"The use of AI would add more teeth to the country's military setup, and it would be a big area considering the requirements of future warfare," Secretary in Department of Defence Production Ajay Kumar, said in a statement.
"China in 2017 came out with its roadmap defining that by 2030 they should be the leading AI power in the world. For the first time, all stakeholders, defense forces, the IT industry, startups, academia, defense PSUs will define the roadmap.

AI is going to be a part of all the military strategy in the future. The man can get tired and bored. Machines will not get tired and bored. Machines can sustain in advanced and dangerous situations. All these advantages are creating a situation where we are going to increasingly see AI in our country's defense setup." Kumar added.
Kumar further said a high-powered task force under the chairmanship of Tata Sons chairman Natarajan Chandrasekaran was "finalizing the specifics and framework of the project, which would be implemented in a partnership model between the armed forces and the private sector."
The task force will include the national cybersecurity coordinator Gulshan Rai, leading academic professors, as well as top generals and officials from the Indian Space Research Organisation (ISRO), Defence Research and Development Organisation (DRDO) and Indian Institute of Science (IISc), and Atomic Energy Commission.
"The task force will make recommendations on how to make India a significant power in AI, in terms of both offensive and defensive needs, especially in aviation, naval, land systems, cyber, nuclear and biological warfare arenas. Initial tenders or RFIs (requests for information) will be floated over the next two years on dual-use AI capabilities," said a military source.
Like U.S., Britain, France, China, and Russia, India has also begun production on embedding AI into its military war machines. Kumar added, "unmanned aerial vehicles, unmanned naval vessels, unmanned tanks and automatic robotic rifles as weapon systems will have an extensive use in future wars."
The military source said the deployment of AI in the surveillance of India's borders with China and Pakistan could give troops the upper hand in defending critical borderlands.
Kumar concluded, "AI is going to be a very big concept in the coming years. Major countries of the world are now working on strategies to see how AI can be used for defense forces. We are also moving….
https://www.zerohedge.com/news/2018-05-22/india-wants-ai-weapon-systems-next-war
Danish Minister: "Dangerous For All Of Us" If Muslims Work During Ramadan
Back in March of last year, Erico Matias Tavares , asked Iben Thranholm – one of Denmark's most widely read columnists on such matters – if Denmark was on the brink?
Thranholm is a former editor and radio host at the Danish Broadcasting Corporation (DR), at which she created a religious news program that set a new standard for religious analysis in the newsroom. She has traveled extensively in the Middle East, Italy, the United States and Russia to carry out research and interviews. She has been awarded for her investigative research into Danish media coverage of religious issues.
Her response now seems prophetic..
IT: Yes, Denmark is on the brink. And Europe is on the brink. We completely lost our culture, our values and our moral compass. What used to be good is now evil and vice-versa. 

You mentioned Denmark being the happiest country in the world but I am not sure that is true. We have high alcohol consumption and about half a million people on happy pills for a reason.

Channel 1, our main TV channel here, recently aired a documentary on three Danish girls who converted to Islam out of their own will, not because they got married or anything like that. They all had the same background, coming from broken homes, dealing with alcoholism and so forth – basically part of the legacy of the 1968 revolution we had across Europe. What these girls lacked was structure, and they found it in Islam because it regulates all aspects of your life: how you dress, what you eat, with whom you can socialize with, how to pray, how to interact as a wife and so on.

That is what the right-wing parties in Europe don't understand. This is a spiritual battle. There is no political freedom without spiritual freedom. If you go around just forbidding things, like don't wear the head cloth and so forth, it will not work. Our civilization will gradually disappear.

The only thing that can save Europe right now is a true spiritual, dare I say Christian, revival across the Continent. This played a significant role in the demise of communism in the Soviet Union and East Germany. The churches there provided hidden venues for people to congregate, express ideas and share their faith and hardships.

Since its inception Christianity was always about fighting evil with love, prayer and faith because these three are the key to freedom. And these are the values that the radical left and radical Islam do not tolerate, because of course both demand total obedience to the state and their conception of God, respectively.

ET: Thank you so much for sharing your thoughts and your courage. You deserve to be in the cover of a magazine, not on some government blacklist. Wish you all the best.

IT: Thank you.
A year later,  in an editorial that drew the fury of progressives in Denmark, the country's immigration minister said "a significant group" of refugees "cheats, lies and abuses our trust" to soak the Danish government for additional benefits – or to cheat on exams that allow them to receive asylum status.
According to Inger Stojberg's editorial, which was published in the Danish BT tabloid, thousands of migrants pose as adolescents to receive the additional benefits that the state of Denmark bestows on unaccompanied minors seeking asylum in the country. In fact, as many as two-thirds of the refugees admitted to Denmark have later been found to be older than the age they gave during their arrival. More from RT (translation theirs):
Another problem that Stojberg highlighted is the age of so-called minors among migrants, many of whom are believed to be grown men posing as adolescents. "We also see young people under the age of 18 who cheat their way into getting better treatment and more benefits," she stated, stressing that an unaccompanied minor costs over 500,000 kroner ($80,000) per year for the state. "In fact, two thirds of those whom we later age-tested proved to be older than they originally stated," she added.
Stojberg also cited Facebook Groups found online where refugees share answers to Danish language and culture tests that every migrant entering Denmark must take.
https://www.zerohedge.com/news/2018-05-22/danish-minister-dangerous-all-us-if-muslims-work-during-ramadan
Detailed Official Report On Harrowing Encounter Between F/A-18s and UFO Surfaces
The paper recounts a course of bizarre events that occurred near the USS Nimitz while it was sailing off the Baja Peninsula in November 2004.
http://www.thedrive.com/the-war-zone/21000/highly-detailed-report-on-harrowing-encounter-between-f-a-18s-and-ufo-off-baja-surfaces